Unlocking Success with Expert Business Advisory Services
Our Business Advisory services are designed to empower businesses like yours with the tools and knowledge needed to thrive in today's competitive landscape. As a leading provider of comprehensive accounting solutions, we take pride in offering tailored advisory services that drive growth, enhance profitability, and ensure long-term success.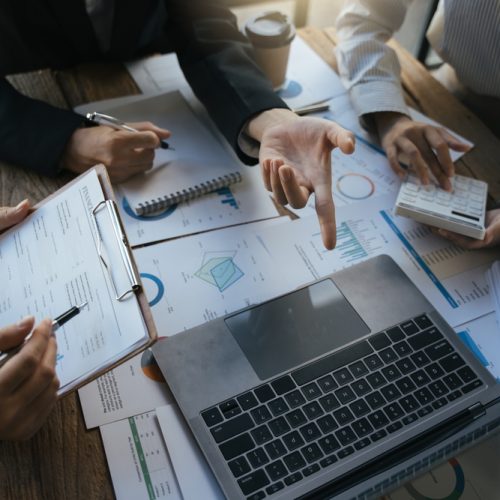 Why business advisory matters
Navigating the intricate pathways of modern business requires more than just crunching numbers. It demands a deep understanding of market dynamics, strategic planning, and proactive decision-making. Our seasoned Business Advisory team brings a wealth of experience across diverse industries, enabling us to provide targeted guidance that aligns with your unique goals.
With more than 130 offices across the UK and Ireland we have one of the largest office networks of any accountancy firm.  To find your local Xeinadin team, just click the button below.
Whether you have a clear goal in mind or are open to exploring possibilities, we're at your service to assist you.
Our business advisory solutions
Strategic Business Planning
Gain a competitive edge with strategic plans meticulously crafted to accelerate your business journey. Our experts analyse market trends, competition, and growth opportunities to create a roadmap tailored to your aspirations.
Financial Analysis and Forecasting
Make informed decisions based on data-driven insights. Our financial analysis and forecasting services identify trends, risks, and opportunities, empowering you to stay ahead of market fluctuations.
Profitability Enhancement
Unlock hidden potential within your operations. We identify cost-saving measures, streamline processes, and offer growth strategies that boost your bottom line without compromising quality.
Risk Management Strategies
Safeguard your business against uncertainties. Our risk management solutions identify and mitigate potential threats, ensuring you're prepared for whatever comes your way.
Secure your legacy with meticulous succession planning. Whether transitioning to new leadership or ownership, we help you create a seamless roadmap for the future.
Navigate expansion opportunities with confidence. Our advisory team conducts thorough due diligence, provides valuation insights, and guides you through every step of the M&A process.
Maximize your tax efficiency while ensuring compliance. Our experts strategize to minimize tax liabilities, freeing up resources to reinvest in your business.
Our Rise business advisory programme gives you the tools to
grow your business.
Ready to transform your business into a powerhouse of growth and innovation?
Contact us today for a consultation. Let's embark on a journey to unlock your business's full potential through strategic, data-backed advisory services. Your success is our business!
According to banking and finance trade body UK Finance, fraud cost the UK economy £1.2bn in 2022. And that's just from the cases we know about. The National Crime Agency, the police body that tackles serious and organised crime, states that as many as 86% of fraud cases go unreported. Fraud is big business for […]
Read more
They are focussed on creating a future-focused and relationship-driven culture, that keeps its promises to you, our team members, and partners.